The post-industrial transition: Can you respond quickly enough?
Enterprises are being disrupted by new technologies improving at an exponential pace. The traditional pyramid organization is too slow, too expensive and too inflexible. Leaders who fail to adapt will find themselves outmatched by competitors who do. They will also face aggressively funded startups that are not hampered by legacy technologies, assets and business models. The good news is that post-industrial management strategies and practices can turn these threats into great new opportunities for innovation and value creation.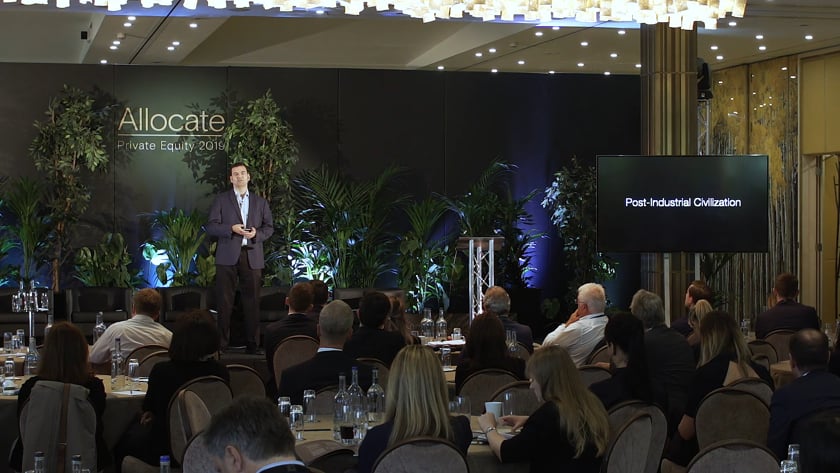 Sample keynote topics
What boards can do to confront and exploit technology disruption

The relentless logic of industry disruption – how and why

Beyond Digital Disruption: how corporates can build tomorrow's businesses 

How PE firms can thrive amidst technology disruption

  
Recent venues
Allocate 2019, London

Global PE Alliance, Las Vegas

Global Corporate Venturing, London and Napa

YPO GNS
, Miami

Allocate 2018, London

Centre 4 Digital Revolution, London

Global Tech Symposium, Silicon Valley

YPO Tech Network, Newport Beach
Speaker
Frode L. Odegard, Founder & CEO
Post-Lean Institute
Frode is a thought leader in next-generation, post-industrial management science. His major focus is on how corporates, investors and policymakers can best navigate humanity's transition to a post-industrial civilization and economy.
From 2004-2014, Frode He led the Lean Systems Institute (LSI)'s decade-long effort of reinventing Lean for modern knowledge work, resulting in the Lean Systems Framework™. The methodology has been used in larger organizations such as Lockheed, Honeywell and Schibsted as well as in smaller firms across many industries. For this contribution Frode was made a Fellow of the Lean Systems Society.
Frode's second major contribution goes beyond Lean Thinking to the heart of the dramatic disruption from exponential technologies that we see today. Researching 12,000 years of human organizations, he concluded that we are transitioning to a post-industrial civilization and economy. This means that a fundamentally different set of ideas and principles must now be used as we innovate, develop organizations, design jobs and pursue careers. The result of this work is Post-Lean — management science for the post-industrial transition.
Frode has more than 25 years of experience as an entrepreneur and trusted advisor to high-tech executives. Before founding LSI in 2004, Frode was the CEO and founder of Odegard Labs, Inc. in 1991, a software engineering research and consulting firm. In 1996 he founded Odegard Media, an early online content developer. While attending high school, Frode in 1986 founded his first company, M2CS, a startup building next-generation tools for embedded software development.
Originally from Norway, Frode immigrated to California in 1990. His biggest passions aside from work are philosophy, history, mathematics, historical linguistics, and Aikido. He resides in Silicon Valley, but spends much of his time traveling overseas. He is always looking for another dojo to visit.
Booking
Keynotes can be customized to meet your specific needs. Please contact us for pricing and availability.